A project multiple years in the works, now finally available. 44 x 44 – Orphax Reworked. 
The album is released as 4x CD boxset mastered by Jos Smolders and comes in beautiful design by Rutger Zuydervelt. 
44 x 44 – Orphax Reworked
4 CDs with compositions created using 44 sounds of 44 seconds by Orphax as source material, by TVO / Ruaridh Law, Modelbau, Fani Konstantinidou, Machinefabriek, Jos Smolders, Elif Yalvaç, Siavash Amini and Orphax.
When I started working on my 44 sketches of 44 seconds already quickly came the idea to ask friends to create music with these 44 sketches. The idea is to take musicians from their comfort zone, and have them experiment and think in different ways about composing music. The result is beyond my imaginations, with the 7 other musicians creating something completely new, different from their regular work, but also each with their own fingerprint. I am proud of what my friends made out of this. 
Over 4 hours of new daring music.
Sietse / Orphax
About the participating artists
TVO
TVO is Ruaridh Law; a sound artist and musician based in North Ayrshire, Scotland.
Over 20 years he has performed in groups, in collaborations and solo across a wide range of festivals, arts spaces, venues and clubs as performer, improviser, DJ and artist, as well as hosting radio shows and writing.
Latterly his interests have been in sound art, especially involving psychogeography and esoteric interests. He has been commissioned for new work from organisations such as FutureEverything, the Anthony Burgess Foundation and Unconscious Archives in the UK, FIBER in Amsterdam and AAA in San Francisco. He has a strong working relationship with Scotland's Sanctuary, for whom he's produced large-scale outdoor works combining sound walks, improvised performance and experimental storytelling.
Currently he divides his time working on idiosyncratic improvised performance (using, amongst other things, a custom made tarot deck as controller); two new art commissions over film and sound art; running further_in, a streaming platform he set up in the early days of the COVID pandemic to provide a platform for those who lost work or exposure; and running both the Broken20 and Logic Of The Signifier labels.
His pieces for 44×44 were performed entirely using his 44 Tarot interface and card deck, details of which can be found at 44.broken20.com

MODELBAU
Frans de Waard (1965) has been producing music since 1984 (Kapotte Muziek, Beequeen, Goem, Zebra, Freiband, Shifts, Modelbau, etc.).
In 1984 he started his own record label Korm Plastics, releasing music from Arcane Device, Asmus Tietchens, Jim O'Rourke among others.
He has worked for the pioneering Dutch tape label Staalplaat (1992-2003) and since 1986 as a reviewer for his own publication Vital (now Vital Weekly), a magazine which has been an online source for underground music since 1995, and which celebrated its 1000th issue in 2015. In 2016 Timeless published in France his first book, an autobiography of life in Staalplaat titled This Is Supposed To Be A Record Label.
His interests in music creation ranges from ambient to noise to what he describes as 'silly disco music'.
He has played concerts in Europe, USA, Canada, Russia and Japan, and collaborated with Steven Wilson, Jaap Blonk, Andrew Liles, Radboud Mens, Keiji Haino, Pan Sonic and others.
MACHINEFABRIEK
Machinefabriek is the alias of Rutger Zuydervelt. His music combines elements of ambient, noise, minimalism, drone, field recordings and electro-acoustic experiments. The music can be heard as an attempt to create sonic environments for the listener to dwell in. It can be minimalistic at first glance, but reveals its depth upon closer listening. The devil is in the details.
Zuydervelt was born in 1978 in Apeldoorn (The Netherlands) and now resides in Schiedam (close to Rotterdam). He started recording as Machinefabriek in 2004.
After a series of self released cd-rs, his official debut Marijn was issued in 2006, with great critical acclaim. Since then, a solid stream of music was released on labels such as Western Vinyl, Type, Important, 12K, Entr'acte, Miasmah, Consouling Sounds, Eilean and Edition Wandelweiser. He performed all over the globe, from Canada
to Israel and from Russia to Japan.
Zuydervelt collaborated (on record and/or live) with numerous artists, such as Marissa Nadler, Jaap Blonk, Aaron Martin, Peter Broderick, Frans de Waard, Richard Youngs, Steve Roden, Gareth Davis, Stephen Vitiello, Michel Banabila, Dirk Serries and Dead Neanderthals, amongst many others.
Zuydervelt has composed music for film, dance, theathre and videogames.
https://www.machinefabriek.nu/
FANI KONSTANTINIDOU
Fani Konstantinidou is a Composer and Sound Artist interested in the sonic imprints of cultural, crosscultural, and social identities. Her work is characterized by urban and rural sonic environments, spoken language, culturally associated musical instruments, and computer generated sounds. She produces shifting sonic textures that circulate between drones, noise, arrhythmic melodies and atonal rhythms.
Inspired by the influence of space and time in music, she creates and recreates
timelines of sonic events and parallel soundscapes. With her music she explores the potential and the antitheses between analogue versus digital, and aims at musical dialogs and public communication through sound.
https://www.fanikonstantinidou.com/
JOS SMOLDERS
I studied architecture at the Technical University in Delft during the early 1980s. During this study I became more and more involved in experimentation with music and sound, sonic phenomena, and music history (with a focus on electronic and electroacoustic music). Sharpening my artistic beliefs by experimentation, study of music history, correspondence and conversations with composers, writing essays, reviewing concerts and musical releases I came to the decision that architecture had no place in my future life.
I toured the country and parts of Europe with electroacoustic ensemble THU20 and
released my own music through various (underground) channels.
Although most of my work has been solo, I have also collaborated with other artists such as Atty Bax (music for performance), Janetta Adriana (music for film), Antje Guenter (technical advice for sound installation), Mark Lyken (production for sound installation), Alexander Korsmit (music for an exhibition), Zeno van de Broek (post-production), Frans de Waard, Wouter Jaspers and Roel Meelkop(improvisation performances).
ELIF YALVAÇ
Born and raised in Turkey, Elif (née Hazal Elif Yalvaç) grew up surrounded by a wide range of music. At an early age, she was fascinated as much by sound as by music, and she picked up the guitar.
Following her BA degree in Translation and Interpreting from Istanbul University, Elif earned her masters in Sonic Arts from Istanbul Technical University (MIAM). She has presented compositions and performed in Turkey and across Europe, most notably at Secret Garden Party (UK) in 2016, as well as throughout Nordic countries, particularly in Iceland. Her debut EP CloudScapes was selfreleased in July 2016, and her debut LP, L'appel du Vide, was released by UK label Curated Doom in November 2018.
Her latest album Mountains Become Stepping Stones was released by the USAbased label NNA Tapes on December 4, 2020.
Elif's compositions embrace opposites: microsound glitches and slow builds; celestial beauty and abrasive energy. Her songs are created using a vast array of instruments, including guitar, synthesizers, and Game Boy, as well as her own software sound design tools and field recordings.
Inspired by computer game audio, Elif extensively studied chip music as part of her master's thesis, entitled "Creating Music 'Inside The Box': Do Chiptune's Limitations Have Aesthetic and Creative Value?"
https://www.facebook.com/elifyalvacmusic/
SIAVASH AMINI
Siavash Amini is a composer from Tehran, Iran. He Has worked with the labels Room40, Hallow Ground, Opal Tapes and Umor Rex for the better half of the past ten years.
He also has collaborated with a wide range of international artists including Rafael Anton Irisarri, 9T Antiope, Heinali and Zenjungle. He Has remixed tracks for Carl Craig, Bernard Szajner, LTO and the duo Arigto. He has performed at CTM festival, MUTEKes, Silent Night Prague and many other well known international venues and events.
He is the curator and a co-founder of "SET experimental art events" and "SETfest" in Tehran, Iran.
ORPHAX
Amsterdam based musician and trained drummer Sietse van Erve (Orphax) was introduced to electronic music in the early nineties. After playing around with tracker software for a couple of years, he eventually recorded his first more serious attempts of music with beats and melodies in 1998, though soon lost interest in both these.
He started researching new sounds and new ways of working – always with an organic touch, often incorporating sounds that would be regarded by others as errors or mistakes. Considering life isn't without errors either. During this search, he found his way into drone and microtonal music. As a result in his most recent work, time and spatiality become more important factors. The goal of the music is for the listener to lose the sense of time and place. Live this is combined with room for improvisation. This way of working results often in an organic form of drone and minimal music.
He has released over 50 releases, as Download, CD-R, Tapes, CD's and Vinyl, on various labels, as well as self-released online since he started working on music. This includes collaborations with Machinefabriek and Martijn Comes. Furthermore, he contributed to many remix projects including work for Kenneth Kirschner, Sontag Shogun, Martijn Comes, TVO and Chris Dooks among others.
In the past, he has shared the stage with various musicians including Martijn Comes, Jos Smolders, Frans de Waard (Modelbau), Zeno van den Broek, TVO, BJ Nilsen, Philip Jeck, Yann Novak, Sarah Davachi and Scanner.
4 CD Boxset limited to 300 or digital available in our webshop.
Or find the album in your preferred streaming service:
All participating musicians: 
TVO / Ruaridh Law

http://44.broken20.com/
Modelbau

https://fransdewaard.com/
Fani Konstantinidou
https://www.fanikonstantinidou.com/
Machinefabriek
https://www.machinefabriek.nu/
Jos Smolders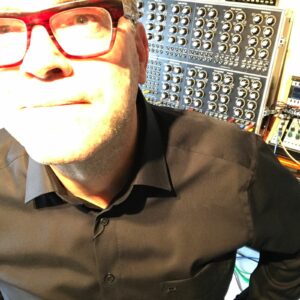 https://earlabs.org/
Elif Yalvaç
https://www.facebook.com/elifyalvacmusic/
Siavash Amini
Orphax