For our Moving Music compilation Bruno Duplant & Alfredo Costa Monteiro for the first time worked together with an amazing result. After this they worked together on the beautiful album Soleils Noirs which is available through Moving Furniture Records. The first in a series of collaborations between MFR artists. 
Soleils Noirs
From a radical utopia to divine transformations, it is at the same time a mass, a flow, a ball of fire, a sparkling device. A continuous sublimation that renews and regenerates itself, like an athanor of doubts, of dreams. An obscure being that seems to reinvent space, like a Great Work, where to get lost forever.
CD limited to 200 or digital available in our webshop.
Or find the album on your preferred streaming service:
Bruno Duplant
Bruno Duplant is a prolific composer and a musician living in the north of France. He has collaborated with many musicians around the globe and has also made solo works. His recordings have been published by various labels including Elsewhere, Another Timbre, Wandelweiser, Ftarri, B-Boim, Diafani, Notice Recordings, Suppedaneum, Unfathomless, Dinzu Artefacts, Aussenraum, Moving Furniture, Verz, Mappa, Hemisphäreの空虚, Falt, among others.
For Duplant, composing and playing music is similar to imagining, creating, and sometimes decomposing new spaces/realities, and new entities. But it is also a reflection on memory, not the historic one, but memories of things, spaces, and moments. His music, strongly inspired by the writing (Francis Ponge, Gaston Bachelard, among others) and some artists/musicians (John Cage, Luc Ferrari, Eliane Radigue, Rolf Julius), is imbued with a sweet melancholy.
His photographic practice and writing (poetry), for some time, join his musical practice, in many crossings, for many exchanges. 
Alfredo Costa Monteiro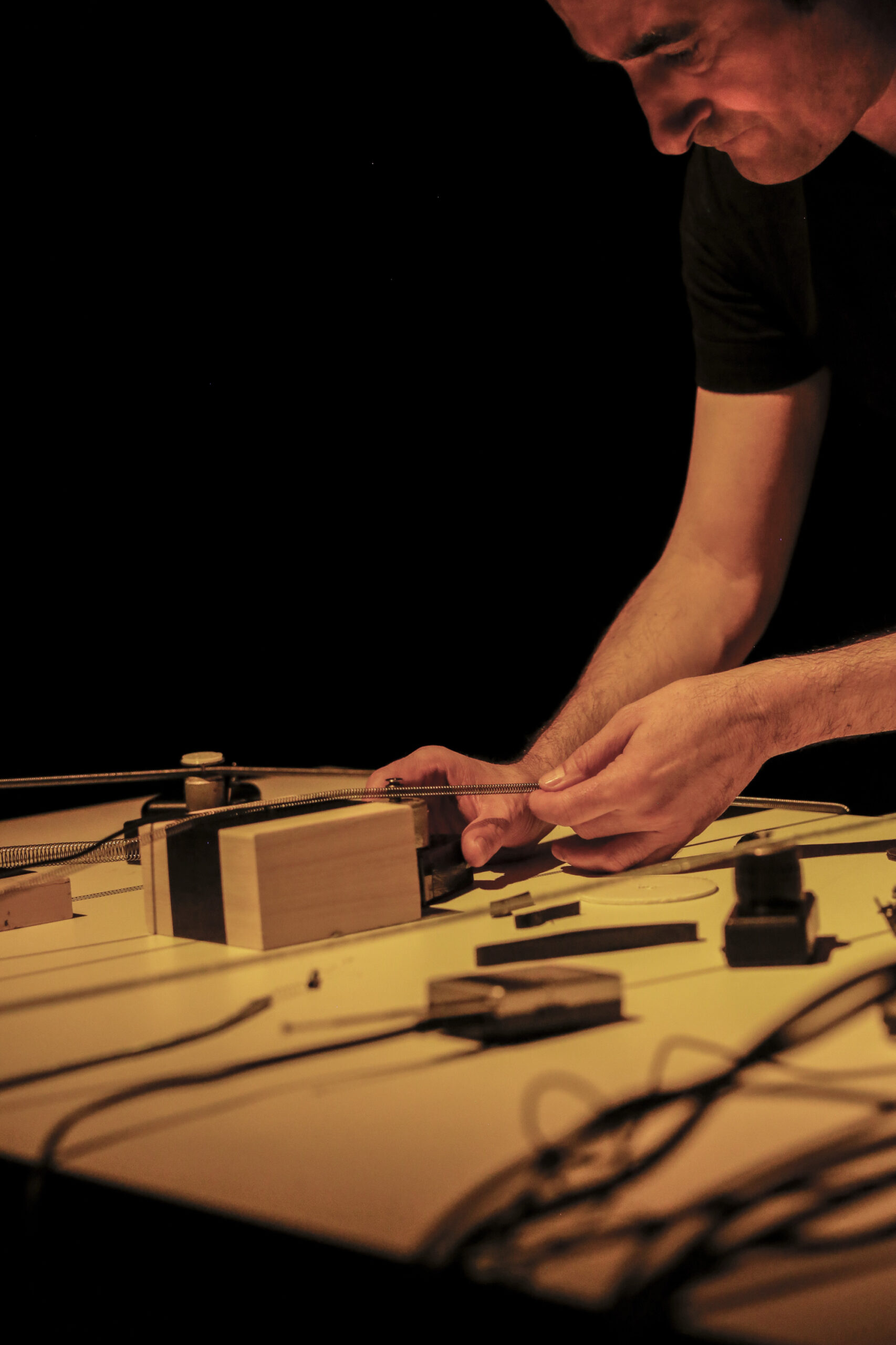 Alfredo Costa Monteiro is a sound artist, sound poet, improviser and composer, born in Porto, Portugal, in 1964. He's been living and working in Barcelona since 1992, the year he graduated in sculpture / multimedia at the Ecole des Beaux-Arts in Paris.
His installations and sound pieces, all of a lo-fi character, have in common an interest for unstable processes, raw materials and conceptual constrictions, often with a disconcerting simplicity but with a strong phenomenological aspect.
He has been working for more than 20 years in various projects of improvised and experimental music, using each time a different instrumentation such as prepared accordion, prepared guitar, turntable, various electroacoustic devices or resonant objects, in order to give these projects multiple identities and directions.
In sound poetry, his work focuses on the musicality of language pushed to the limit of its phonetic entrenchments, evicting semantics for the benefit of sound. His performances, built of snatches of conversation, are often noisy and polyglot: he uses Portuguese, French, Spanish, Catalan and English to create multiple meanings that often defy understanding and lead to confusion.
He has collaborated with many musicians, choreographers, video artists, and filmmakers and has shown his work throughout Europe, Canada, the US, Russia and Japan.
He has an extensive discography on labels from all around the world, in solo and in different formations