MFR017: Orphax – Oniscus Asellus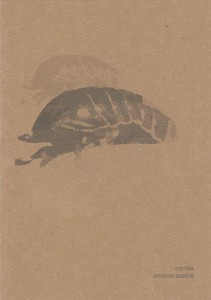 First released in 2003 as mp3 release now for the first time ever also available on a CD-R format. 
For this reissue the music has been remastered in April 2014. In this master the lovely details in this music come closer to the surface making this a clear sounding issue. Though, one with still lots of things to discover. 
The music on this album is inspired by insects, bacteria and other small life. Like in Godfried Bomans book "Erik, or the Little Insect Book" you are drawn into a world unknown. A world where you have to listen to the details in the soundscapes, drones and noises, a world where at first listen not much seems to happen, though after repeated listening more and more of the details appear.
First edition is limited to 24 copies.