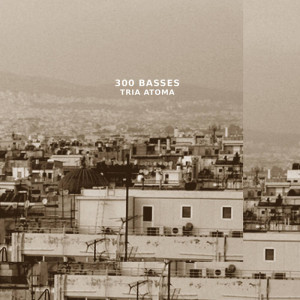 Today we have to official release of Tria Atoma by 300 Basses.
On Tria Atoma the trio of Jonas Kocher, Alfredo Costa Monteiro and Luca Venitucci present three new pieces of improvised accordion. The result is a intense microtonal drone journey.
Tria Atoma is released on limited CD and digital download and is available on our bandcamp shop here: https://movingfurniturerecords.bandcamp.com/album/tria-atoma
300 Basses exists since 2010, and has performed until now at Cave 12 Geneva, Les Ateliers Claus Bruxelles, Galleria O' Milano, Labor Sonor Berlin and other venues in France, Italy and Switzerland. Initially they were playing free improvised music, then they began to organize their sound materials into fixed compositions. In 2012 they released their first CD 'Sei Ritornelli', on Potlatch label.
'Tria Atoma' goes further than the previous album in the exploration of sound configurations achieved by means of simple but clearly focused actions and gestures: the beatings produced by the long tones of instruments with slight differences in tuning; the unexpected sound texture produced by the superimposition of the sound of the reeds with the one of a bowed cymbal; the slow permutations of a minimal sequence of intervals. A sound world made up of infinitesimal elements, and yet rich of activity, vibration, and nuances. Recorded late July 2014 in Athens (GR) at Sofokleus 33. Thanks to Ilan Manouach
About 300 Basses
Jonas Kocher
The swiss sound artist Jonas Kocher was born in 1977 and studied a.o. with Teodoro Anzellotti and Georges Aperghis. His interest in different artistic fields bring him to collaborate with different personalities from various backgrounds and in numerous artistic and social contexts. His work explores the process of listening, the space and the perception. As accordionist he plays the instrument within physicality and reduction, uncontrolled playing and high precision. His regular partners are Burkhard Beins, Jacques Demierre, Axel Dörner, Alfredo Costa-Monteiro, Michel Doneda, Hans Koch, Radu Malfatti, Stefan Thut, a.o. Since 2010, extended tour activity in Europe, US, Japan and Russia. As sound artist he realizes projects which are situated between composed theatre, installation and concert pieces. His work as accordion player is documented on more than 15 recordings and on labels such Another Timbre, Potlatch, Bocian Records, Creative Sources, Insubordinations, etc.
Alfredo Costa Monteiro
Alfredo Costa Monteiro was born in Portugal and has lived and worked in Barcelona since 1992. He finished his studies in sculpture / multimedia at the School of Fine Arts in Paris in 1992, the year he moved to Barcelona. Since then, he has developed a multi-activity covering sound art, sound/visual poetry and visual art. His installations and sound pieces, most of them of a low-fi character, have in common unstable processes, raw materials and gestures, conceptual constrictions, where the manipulation of objects as instruments or instruments as objects has a strong phenomenological aspect. Since 2000, he's been working in many different projects dealing with experimental and improvised music, collaborating with numerous musicians, choreographers, video-artists, filmmakers and poets from all over the world. He has a vast discography in solo and other formations in european, north-american and japanese labels. In sound poetry, he works on the musicality of language: language pushed to the limit of its phonetic entrenchments, evicting meaning for the benefit of sound, in a combinatory framework that generates its own architecture. He writes in spanish, portuguese and french and very often mixing these languages. He plays accordion, electro-acoustic devices, turntable, electric guitar and resonant objects.
Luca Venitucci
Since the end of the '80 Luca Venitucci has been working as a pianist, accordionist, improvisor and composer, and has toured and recorded with many different projects as well as a soloist. His interests in different art forms led him to collaborated repeatedly with dancers, directors, poets and mixed media artists, and to research on the interaction between sound, visuals, performative action and words. In 1995, he has been a co-founder of the electroacoustic improvisation group Ossatura with Fabrizio Spera, Elio Martusciello and Maurizio Martusciello. For several years he has been part of the Zeitkratzer Ensemble. He has played, performed and recorded with a wide range of improvisors, composers and musicians, including Mike Cooper, Peter Kowald, Otomo Yoshihide, John Zorn, Axel Dorner, Alessandro Bosetti, Michael Renkel, Alvin Curran, Jon Rose, Butch Morris, Radu Malfatti, and many more. In 2012 he released his first solo album, "Interstizio" (Brigadisco Records), featuring original compositions for accordion and voice.