Richard Chartier presents his new album Continue, his first for Moving Furniture Records, his first solo CD album since 2017's Removed (out on Ash International). 
Continue
With his new album "Continue" Richard Chartier presents four minimalist compositions with a focus on deep drones and apparent silences. The music is subtle, delicate and at moments fragile. Full, with details, like delicate patterns that unfold like ripples on water.
With a keen eye on details the compositions reflect Chartier's earlier work, but also asks new questions.
When is the creative process done? Is art ever finished or does it continue to develop? And how does the listener participate in this? Will they give it full attention using a headphone to hear the smallest detail, or will it be played in the background? How will they perceive the work?
Richard Chartier's words on Continue:
Over the past few years I've been revisiting materials for several long form works: recomposing, restructuring, re-editing, re-evaluating…until they started to break down into separate pieces and segments.
All the while I wonder for each, "Is this done? Is this complete? Why can I not allow this to be finished?" and what is it that draws me back into them.
What determines the completion of sound, of composition, of experience? What determines when it fades—when it's pressed onto a substrate?
One of the most constant forces in our lives, the sun, is always shifting, undulating, sending forth energy. To us on the ground, it might look basically the same every day, but we don't notice the subtle changes to its surface. It has no true completion of form.
Upon release, I wonder if these are completed forms. I already feel I need to rework them. Aren't we unfinished forms, too? Even the forms of recorded aural experience continue to shift as the listener re-interprets and re-contextualizes them in their environments and playback.
The four movements on 'Continue' present four variations on the idea of completion.
Published by Touch Music/Fairwood Music Ltd
CD limited to 200 or digital vailable in our webshop
Or find the album in your preferred streaming service (available November 13th):
Richard Chartier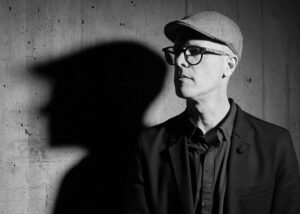 Richard Chartier (b.1971) is a Los Angeles based artist, considered one of the key figures in minimalist sound art. Chartier's works explore the inter-relationships between the spatial nature of sound, silence, focus, perception, and the act of listening itself.
Chartier's critically acclaimed sound works have been published since 1998 on a variety of labels internationally including Room40 (Australia), Editions Mego (Austria), Important Records (US), Ash International / Touch (UK), mAtter (Japan), Raster-Noton (Germany), Spekk (Japan), Trente Oiseaux (Germany), NVO (Austria), Farmacia901 (Italy), 12k (US), and his own imprint LINE (US).
He has collaborated with composer William Basinski, sound artists ELEH, France Jobin, Robert Curgenven, Taylor Deupree, AGF, CoH, and Yann Novak, and German electronic music pioneer Asmus Tietchens. In installation form, he has created works with multimedia artists Evelina Domnitch and Dmitry Gelfand, visual artist Linn Meyers, and projected light artist Anthony McCall. Under his guise Pinkcourtesyphone, an ambient project restarted in 2012, he has collaborated with Cosey Fanni Tutti, Kid Congo Powers, harpist Gwyneth Wentink, AGF, and thereminist Evelina Domnitch.
Chartier's sound works/installations have been presented in museums and galleries internationally including the Whitney Biennial and the influential sound art exhibit Sounding Spaces at NTT/ICC in Tokyo. His performances have occurred live across Europe, Asia, Australia, and North America.
Since 2000, Chartier has curated his influential recording label LINE (lineimprint.com), publishing over 120 editions documenting the compositional and installation work of international sound and video artists who explore the aesthetics of contemporary and digital minimalism.
In October 2018 Chartier was the first visiting artist for the Sensory Media Platform at the Harvard Graduate School of Design.