Cuspa Llullu is the second collaboration between Anla Courtis & Daniel Menche, and their debut for Moving Furniture Records.
Cuspa Llullu is released on vinyl limited to 300 copies in beautiful artwork by Pole Ka.
Cuspa Llullu
For its second collaboration release, Daniel Menche & Anla Courtis go further and deeper into their previous steps. "Cuspa Llullu" is an intense journey through a kaleidoscopic sound labyrinth which seems to come from nowhere/everywhere.
Side A moves into metallic corridors with multi-layered surfaces which keep changing until its last second.
Side B begins outdoors but somehow it soon starts visiting several inner regions until it reaches its final climax.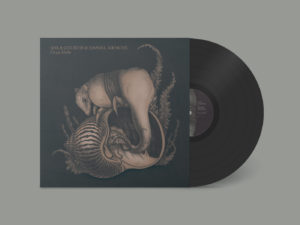 But what is exactly the sound matter moving around on these tracks? Sounds here are not inert samples; there're vibrating beings full of life and in constant mutation. Frequency-lifeforms moving everywhere in ways that can be only appreciated if we're able to listen not only with the ears but with the whole body.
The strange animal on the cover might serve a metaphor of these organic sound-form entities which proliferate around within the habitat of this album.
Recorded between Portland and Buenos Aires, this sound collaboration reveals a sonic world that seems to have its own existence somewhere in the Geosphere and maybe also beyond.
Reviews
The more I hear from Anla/Alan Courtis, the more I recognize his value as a collaborator. Sure enough, the list of artists he's worked with is extensive and diverse: Ashtray Navigations, RLW, Das Synthetische Miscgewebe, Masami Kawaguchi, Aaron Moore, BJ Nilsen, Kommissar Hjuler, Eddie Prevost, Crank Sturgeon and on and on… rock bands, noise artists, electro-acoustic composers, improvisers… Courtis seems to possess a chameleonic versatility in his post-Reynols music, which I find myself enjoying more than I did the band with which he made his name. "Cuspa Llullu" is Courtis' second collaboration with Daniel Menche. It's a fruitful enough pairing that I'm glad they decided to explore it further. Their first record, "Yaguá Ovy", came out in 2011 and was split between one percussion-based side and one of doom-metal guitar crunch. This new one also contains two sidelong slabs of sound, two separate pieces that are quite appropriate as two sides of a vinyl LP. Both pieces have percussive elements, not as pronounced as on the duo's first record but not absent either. The first side, "Sumac T'ikraq", begins with what sounds at first like doom-metal guitar atmosphere, eventually morphing into rolling simmer of heavy chains and passages of lovely shimmer. The second side, "Achka T'asla", is the show-stopper… a patient coalescence of gently rolling feedback textures and what seems like an auto manufacturing plant in a giant laundry dryer… massive metal clank and hot-air blast in a slow, violent churn. Listening deeply into the sounds, I can hear loads of production detail, layers of metal-on-metal screech riding atop cascading overtone and guitar heroics. (HS)
LP limited to 300 or digital available in our webshop.
Or find it in your preferred streaming service: https://orcd.co/cuspa_llullu
Anla Courtis
Alan Courtis (aka Anla Courtis) was born in Buenos Aires in 1972. He has been working in the field of sound-art, electro-acoustic music, drone, noise, improvisation and composition. In 1993 he cofounded the group Reynols.
He has over 400 solo releases and collaborations on worldwide labels.
Daniel Menche
Daniel Menche is an iconic experimental musician from Portland, Oregon. His extensive history of recording and performance spans three decades and counting. Menche's sonic abstractions manifest through intense noise, immersive drones, dense ambiance, poly-rhythmic percussion, turbulent nature field recordings, abused acoustic instruments and many other sources. His music is adventurous in execution as well as presentation, creating an absolute, abstract sonic world.